Your Daily Spiel is The CJN's daily roundup of trending stories in the Jewish world. Sign up to receive it in your inbox by clicking here.
---
Sneaky Dieudonné manages to perform in Montreal after all. Anti-Semitic hatemonger Dieudonné M'Bala M'Bala managed to perform in Canada after all, much to the chagrin of Jewish groups and Border officials who prevented him from entering. After a failed attempt to perform to the hundreds of Montrealers who bought tickets to one of his ten sold-out shows, Dieudonné this time disclosed the venue only hours ahead of his virtual performance, with tickets ranging from $40 to $60 Cdn. Some 700 people reportedly attended.
Israeli coalition talks a high school popularity contest. At the urging of his party, Likud, Israeli PM Benjamin Netanyahu met with Jewish Home leader Avigdor Lieberman to discuss a coalition of the two parties. Meanwhile, Opposition leader Isaac Herzog of the Zionist Union party reportedly issued an ultimatum to Netanyahu, according to the Times of Israel, telling him it's either Zionist Union or Lieberman. This is apparently a double-win for Lieberman, but could prove hazardous for Netanyahu. Learn more here.
Finally, a boycott we can get behind. Israeli-American violinist Itzhak Perlman has cancelled his performance with the North Carolina Symphony after being told he wouldn't be able to make a statement opposing the state's new bathroom law targeting transgender people. "If I'm invited, I will come once the law's repealed. But as long as this thing is there, I have to take a stand," Perlman said.
Germany knows a thing or two about the Holocaust. Germany has joined the chorus of international voices condemning Iran for its annual cartoon contest promoting Holocaust denial, which is currently running in Tehran until the end of May. "The murder of 6 million men, women and children during the Holocaust, for which we Germans bear guilt and responsibility, must not be abandoned to ridicule," said German Foreign Ministry spokesperson Martin Schaefer. The top prize in the contest, which features "works" from over 50 countries, is $12,000 (US).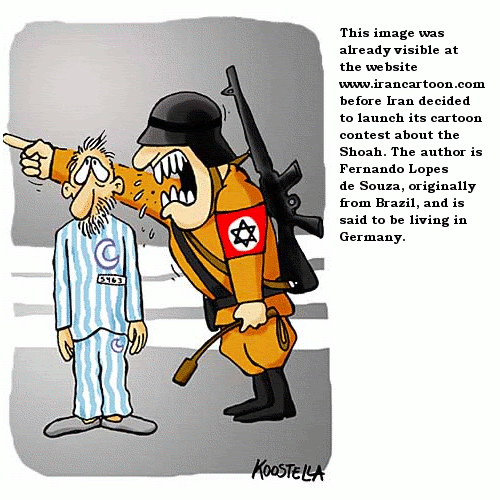 Time for a terrorist to win the Nobel Peace Prize. Belgian lawmakers from across the country's political landscape are in agreement: jailed Palestinian leader Marwan Barghouti deserves the Nobel Peace Prize. Barghouti, who many Palestinians want to succeed Mahmoud Abbas as President of the Palestinian Authority, is currently serving five life sentences for his role in deadly terror attacks during the Second Intifada. Belgian lawmakers from both the Senate and the House of Representatives penned a letter urging for his release: "He is an important actor for the future of a region more fragmented than ever," the letter reads. "Peace requires the freedom of Marwan Barghouti and of the political prisoners, and more generally the freedom of the Palestinian people living for decades under occupation."
"At my bar mitzvah, there were two pictures taken." Jewish billionaire businessman Nelson Peltz threw a lavish bar mitzvah party for his twin sons that reportedly cost him some $2 million (US). The event featured stilt-walkers, a hockey rink, a basketball hoop, a video arcade, two bands, five singers and tons of entertainment. Standing near the hoopla as professional photographers snapped photos of those lucky enough to attend, Peltz quipped, "At my bar mitzvah, there were two pictures taken." If this is to be taken as a complaint, well, he really didn't need to fund this bar mitzvah circus, did he? The twins probably would have learned more from a quieter, more modest affair.
Live till 113 and break a record. A 113-year-old Jewish woman is now the oldest living person in the United States. Goldie Michelson of Worcester, Mass., who was born in Russia in 1902, is likely the oldest Jew in the world too, since famous Holocaust survivor Yisrael Kristal, currently the world's oldest man, is only 112.
---
Sign up to receive Your Daily Spiel in your inbox every day by clicking here. Send ideas and news items to [email protected].