Your Daily Spiel is The CJN's daily roundup of trending stories in the Jewish world. Sign up to receive it in your inbox by clicking here.
---
That's quite the claim. After arriving in Montreal this week, Gilad Paz, an Israeli citizen, immediately filed for refugee status, claiming he "fears persecution" in Israel on account of his support for the BDS movement. The Israeli government's envoy in Montreal dismissed the claim as preposterous. "Israel is a country of human rights, democracy and freedom of expression," said Israeli Consul General Ziv Nevo Kulman. "The Canadian authorities know this very well, and we have faith that they will deal with this false claim accordingly…There is no persecution in Israel whatsoever. That's ridiculous."
Guess it didn't bother her that much. After contemplating leaving her post as leader of the Green Party over its decision to endorse the BDS movement (a move she staunchly opposed), Elizabeth May has decided to remain at the helm. "It appears I am much loved. It's surprising to find sometimes in politics," May said at a press conference on Monday, during which she reaffirmed her commitment to leading the Greens. May added that joining another party was "out of the question" and that she would push for the party to reconsider supporting the resolution.
Is Brussels Airlines boycotting halva snacks? Reports emerged yesterday morning that Brussels Airlines removed a halva snack made by Achva (whose factory is over the Green Line), following pressure from BDS activists part of the Palestine Solidarity Campaign. According to Israel's Arutz Sheva, the airline admitted that the item is "controversial" and it has "a responsibility to offer items that everyone can approve of and we therefore decided to change the dessert." However, the Times of Israel reports it was dropped "because it is not what they ordered, not for any political reasons." Jewish Agency spokesman Avi Mayer also wrote that a spokesperson for the airlines said "this is not a boycott."
Meanwhile, Israel's Tourism Minister condemned Brussels Airlines and is calling to ban it from Israel. Today, the Airlines released a statement claiming, "As a company, we are politically mutual. We are not boycotting any products."
"We are [in Israel] to stay." Statement from @FlyingBrussels regarding #HalvaGate (https://t.co/7ODqJiHjHV): pic.twitter.com/BiFToZBFr2

— Avi Mayer (@AviMayer) August 24, 2016
Don't get caught with an Israeli. An Egyptian beach volleyball player posing for a picture in front of a woman draped in an Israeli flag is the subject of much controversy after fellow Egyptians complained that she was supporting Israel. The athlete, Doaa Elghobashy, claims she didn't know the flag was even in the frame. "It isn't possible that I would take a picture with an Israeli, because between these people and ourselves, it is not possible to have peace," she said, reports Ynet. Nice to see that sportsmanship has trumped politics at Rio.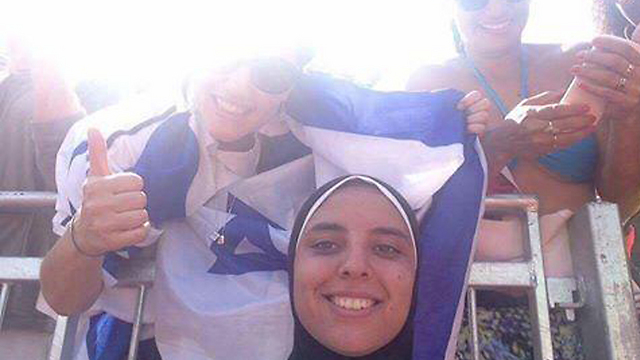 This ain't France, after all. Amidst the controversy over French cities banning 'burkinis' and other such Islamic headdress, the Royal Canadian Mounted Police, otherwise known as the Mounties, announced it will allow women in uniform to wear hijabs, reiterating Prime Minister Justin Trudeau's remarks earlier this week about promoting tolerance. According to government spokesman Scott Bardsley, the decision is a bid to attract more female Muslim officers and reflect Canada's growing diversity.
NFL athletes should stop eating gefilte fish. Baltimore Ravens linebacker Terrell Suggs has lost a bit of weight recently, which many out there are noticing. Suggs explained his diet in an interview with the Associated Press, saying, "I like my fried chicken, my pizza, my peaches and my gefilte fish. I had to cut all that out." So wait, Terrell Suggs actually eats gefilte fish, like, on his own accord???? Luckily for the purveyors of the delicate fish Jews are so fond of, Suggs said that he still eats "a little bit" of it, despite his diet.
No more gefilte fish for NFL player Terrell Suggs as part of his new diet https://t.co/qz8lCr4SKJ pic.twitter.com/UPUjRY9ZH8

— Reuven Blau (@ReuvenBlau) August 24, 2016
---
Sign up to receive Your Daily Spiel in your inbox every day by clicking here. Send ideas and news items to [email protected].