Your Daily Spiel is The CJN's daily roundup of trending stories in the Jewish world
---
Canada: After McGill University's student body passed a BDS motion last week, it failed to be ratified following an online vote where students ultimately voted against it, a panel speaking on Canadians with disabilities agreed that affordable housing is key to their mental health, the director of the Auschwitz Museum was in Toronto recently where he confirmed that the museum's focus is on "preserving authenticity," the Liberals have officially fulfilled their promise of relocating 25,000 Syrian refugees to Canada, and CJN contributor Rabbi Dow Marmur penned an op-ed in the Toronto Star on how to build bridges between Jews and Muslims.
U.S.: The Forward investigates why Hillary Clinton's Jewish son-in-law Marc Mezvinsky has been noticeably absent from the campaign trail, and an Orthodox talmud teacher in Westchester describes her experience coming out as gay to the religious community.
Israel: An 81-year-old Holocaust survivor is suing El Al after an Orthodox man refused to sit beside her, SodaStream was forced to fire its last Palestinian employees since leaving the West Bank (approximately 500 Palestinians lost their jobs after the factory closed following pressure from BDS activists), and after completing her training, a deaf Israeli woman has officially realized her dream of joining the IDF. 
A video of a Palestinian assailant who attacked an unarmed security guard with an ax has surfaced online, much to the horror of the victim's family (he currently remains in hospital), a rabbi has compared the IDF's new ban on facial hair to 'Nazi Germany' policies, Women of the Wall members managed to smuggle a Torah into the Kotel and were met with both verbal and physical harassment, and the Palestinian Authority has actually rejected Iran's plan to compensate families of Palestinian terrorists.
World: Benjamin Netanyahu welcomed efforts to achieve a ceasefire in Syria but cautioned that Israel would continue to defends its "own interests" in the region, the trial of 95-year-old Hubert Zafke, a former SS medic at Auschwitz, has been delayed after a doctor stated he wasn't fit to stand trial, a video of an Irish-Catholic priest snorting cocaine in a room filled with Nazi paraphernalia is going viral (of course), AND a Lithuanian town is planning to name a street after a priest who was complicit in the murder of the city's Jews in 1941.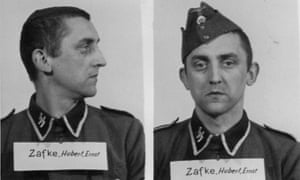 Pope Francis commented today that Islamist violence in the Middle East and Africa is bringing churches closer together, Netanyahu has announced his forthcoming trip to Africa (the first Israeli PM to do so in fifty years), Israel's ambassador to Egypt Haim Koren says that he's not deterred to reestablish relations between the two countries after an Egyptian MP hurled shoes at a colleague over hosting him (see below), a Saudi-owned TV station mocked Hezbollah leader Hassan Nasrallah, sparking riots and protests from the group's supporters, and a Holocaust survivor's story has been rediscovered in a London attic.
Sports: Egypt has refused an offer from Israel to hold a friendly soccer match, and Israeli gymnasts secured at least three awards at Finland's gymnastics World Cup event in Espoo.
Technology: Like Microsoft, Apple has a strong presence in Israel a.k.a Startup Nation. According to a new report, the tech giant has so far invested $1.2 billion (US) in Israel, and employs some 800 locals.
Culture: The 88th annual Academy Awards took place last night, with the biggest Jewish-themed win of the night going to the creators of Son of Saul, a Hungarian Holocaust film, who accepted the award for Best Foreign Film.
You may have also noticed a bit of Hebrew at the Oscars when Adam McKay and Charles Randolph won for Best Adapted Screenplay, and Randolph thanked his Israeli wife, Mili Avital:
HEBREW AT THE OSCARS! Last night, Adam McKay and Charles Randolph accepted Oscars for Best Adapted Screenplay for The Big Short. Charles Randolph was sure to thank his wife, Israeli actress Mili Avital with a special Hebrew message…"Ani ohev otach, Mili." "I love you, Mili." Mazel! Via: Oscars

Posted by The Israel Project on Monday, February 29, 2016
Sacha Baron Cohen may have appeared at the Oscars as Ali G, but he's otherwise been showing up in public as Nobby, in promotion of his new film, Grimsby. At a London premiere recently, Nobby spoke with an Israeli host about boycotts and Jews.
Roseanne Barr has confirmed her attendance at an anti-BDS conference in Jerusalem, Jill Soloway, creator of the successful Amazon series Transparent, is at the helm of a brand-new series for the network called I Love Dick (seriously, though), Israeli-French singer Amir Haddad (a former competitor in Israel's A Star is Born) has been chosen to represent France at Eurovision 2016, JTA has compiled a list of nine famous Jews who attended summer camp (in case you were curious), a group of U.K. Jews have launched a new Jewish channel on YouTube called J-TV, and two young art aficionados are turning an old Jerusalem market into a gallery of famous Jewish portraits.
---
Ideas for news items to include in the spiel? Please send them to [email protected].