Your Daily Spiel is The CJN's daily roundup of trending stories in the Jewish world. Sign up to receive it in your inbox by clicking here.
---
Get that damn swastika off your face. A Las Vegas judge recently ordered a cosmetologist to cover up a defendant's neck and facial tattoos, which the judge found offensive and in poor taste. Some of the tatts he had done included a swastika and the words "Most Wanted." The defendant, standing trial for for murder and armed robbery, also has the words "Baby Nazi" inked on his neck.
Shifting how we talk about intermarriage. As intermarriage becomes more prevalent within the Jewish community, the discussion continues to change from "how can we prevent this?' to 'how we can reach out?"
"The language of war and battles and prevention has basically disappeared from the North American community," said Rabbi Kerry Olitzky, executive director of Big Tent Judaism. "Fifteen years ago, federations were debating whether to reach out to intermarried families. Now the issue is how to reach out to them." It truly is a new era, eh?
Shalom to you too, chaver. Last night at the Democratic National Convention, a day after he impressed audiences with a solid and entertaining speech backing his wife Hillary, Bill Clinton sat in the audience as he listened intently to Barack Obama's speech. If you paid close attention, you may have noticed the former president was wearing a Hillary pin, sure, but with only one small difference: it's in Hebrew. According to Tablet, the pin was a gift from political operatives associated with the National Jewish Democratic Council. Steve Rabinowitz, who apparently gave Bill the pin, never thought he was actually going to wear it.
When he told me at the Clinton/Gore alumni event today he'd wear it, I didn't think he meant tonight. cc @NJDC pic.twitter.com/EWDaRy5Khb

— Steve Rabinowitz (@steverabinowitz) July 28, 2016
Buzz Aldrin to the rescue. The second man on the moon was in Israel this week to share his vision of starting a human colony on Mars by the year 2040. "There is no greater endeavour that humanity will undertake for generations to come, than to establish a permanent human presence on another body in the solar system," Aldrin said at the event. "If not now, when? If not us, who?" Aldrin was visiting for the International Space University's 2016 Space Studies Program, an intense 2-month program that gives participants an experience "covering all aspects of space programs and enterprises."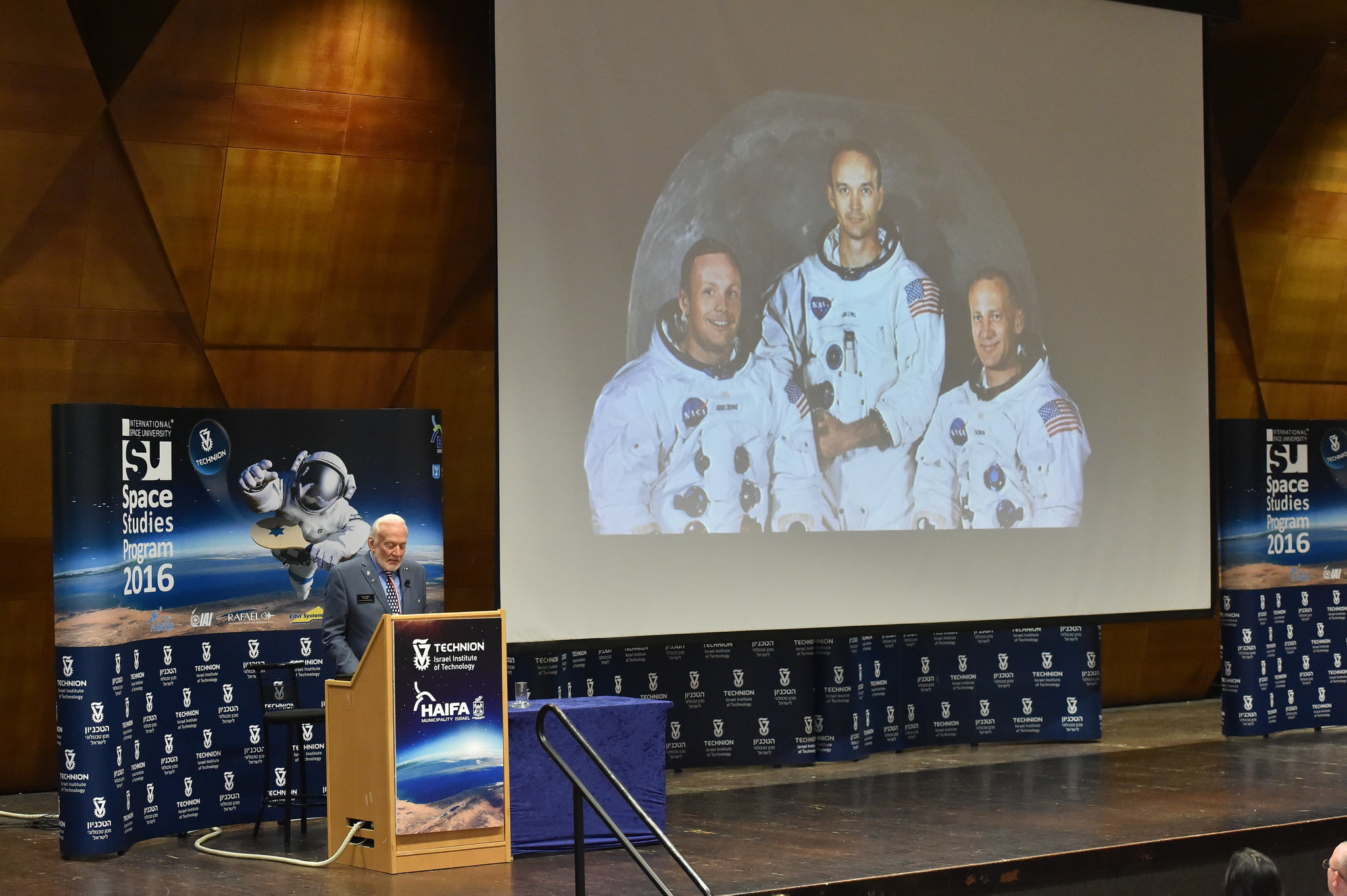 Do people even know what the word 'Zionist' means? Uneducated cretins on Twitter would like Gal Gadot as Wonder Woman if Gal Gadot didn't support the country in which she was born, which, as a Zionist, apparently makes her a bad person? Gadot has been the subject of vile abuse on the precarious social media platform recently, as Twitter users share their disdain for yet another Israeli actor due to their "Zionism" (which is simply just a belief that the Jewish people deserve a state). You realize actors don't make up Israel's politics, right? You realize they have no say in Israel's "policies" concerning the Palestinian people…..right? 
Gal Gadot stans: SHES NOT A ZIONIST SHE JUST SUPPORTS HER COUNTRY AKA THE MURDER OF INNOCENT PALESTIANS pic.twitter.com/DNlvZ7KH86

— jade (@seIinameyer) July 26, 2016
Don't try Seinfeld schemes at home, kids. Many fans of classic TV shows like Seinfeld and The Simpsons probably try to replicate funny scenes they enjoyed or get-rich quick schemes that actually seemed plausible. Like, for example, when Kramer and Newman schemed to return 10,000 bottles and cans to a deposit in Michigan, which pays twice as much (ten cents) as a deposit in New York. 
One man, Brian Edward Everidge, of Columbiaville, was so inspired, in fact, that he actually collected over 10,000 bottles from various states across the U.S. to bring to a deposit in Michigan, but alas, his scheme was foiled after he was caught speeding, his car literally bursting at the seams with empty bottles. "I don't think you could have put another five or 10 cans in there," Officer Clifford Lyden, who pulled over Everidge, testified on Thursday. "It was packed." Seinfeld may not have mentioned this, but it's actually illegal to return bottles that come from a different state. In fact, Everidge might even be facing jail time, not to mention a serious fine.
---